It's a really exciting experience starting your first blog. Are you debating between Typepad vs WordPress? With this article, the choice has just gotten way easier. Read below and you will be set on the path to success.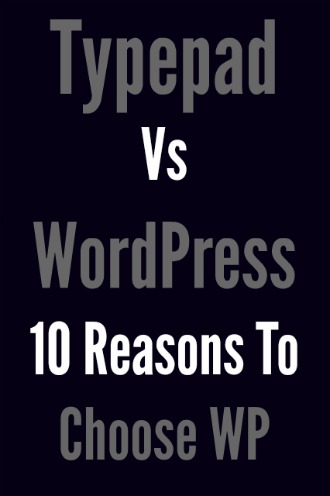 Content ownership
When making a website or blog you must make sure that you have complete ownership of it. With TP you are not the owner. Your site is on their servers, which is a big no.
Think about this, if you were to start a business in real life would you want the future of your business in someone else's name? Of course not. You need your own hosting provider so your content can't be modified or so your blog can't be terminated for any stupid reason.
TP TOS – Typepad reserves the right to change, suspend or discontinue part or all of any version of the Typepad Service at any time, for any reason, without notice, and without explanation.
Domain name
Having a "site.typepad.com" domain is not a good look for your blog or brand, but this is what Typepad gives you. If you want a professional domain you need to pay for your own from a domain registrar. With WordPress when you host with SiteGround you are given a free domain name.
Price differences
Typepad has 4 different plans. The Plus plan is going to cost you $8.95/mo. With this plan, there are monthly upload limits. You will only be able to upload 150MB per month. The Unlimited plan is going to cost $14.95 per month. Premium is going to cost $29.95 and the Enterprise plan is going to cost you $49.95 a month. For a blogging service, these are not the best prices.
WordPress doesn't cost a thing, but you have to pay for a hosting company to host your site. I strongly recommend SiteGround, which is the most popular hosting company in 2016. Not only does it offer top performance, but it is very cheap. At $3.95/mo the price can't be beaten.
The plan that most people are choosing with Typepad is the $14.95 plan. If we compare these prices in the next 3 years you are going to be paying $538 with Typepad and $142 with SiteGround. At this point, WP is the more attractive option, but let's move on.
Start SiteGround at 60% off.
Security backup comparison.
Typepad backup is basically non-existent. With TP you are not able to backup all of your content. You have to find alternative ways to get around this. With WP it's easy to backup all of your content. You can do it with your hosting company or you can install a plugin that will automatically backup your content for you.
Features
One of the strengths of WordPress that makes it so appealing to beginners is the huge library of plugins. No other platform can compare. You want your blog to grow with you and these plugins give you the edge over all the competition.
Many people think that you have to be a coder to use WordPress and to customize your site to your liking, which is not true. You don't have to know a drop of code to customize your site. All you have to do is go to the plugin section and in one second you can install a plugin to give your site superpowers.
Maybe down the road, you want to add a live chat feature to talk to your readers, you are given a plugin for that. Maybe down the road you want to add a membership forum to your site, there is a plugin for that.
These thousands of plugins should cost over 100 dollars, but they are free. You might be asking does Typepad have this and the answer is no. They might have a small number of basic widgets that you would expect from every blog platform, but it's not the same. Typepad was never meant to be extremely customizable. It was meant to be an easy blog option for beginners.
SEO
Typepad is not good for SEO. I checked the rankings of various Typepad sites with a good backlink history and the sites were still not ranking well. Typepad does not have the top of the line SEO plugins like WordPress. You are not able to install plugins to help increase your site speed and make your site more visible. The head of Google webspam should know a few things about ranking better and the fact that he uses WP along with the Yoast SEO plugin should tell us something.
Typepad is missing a few SEO features as well.
TP doesn't allow you to rename your image file names. Optimized images are important for SEO. What this means is, you are going to have to use a long and ugly image file name that search engines are not to fond of.
You can't have different titles and SEO titles. Everything has to be the same.
Typepad does not allow 301 redirects, which is a bummer.
No Canonical Tags. Canonical URL meta tag helps your SEO because it helps get rid of duplicate content problems
The best Typepad SEO tip is to move your TP blog to WP immediately.
WordPress has a better permalink structure.
Themes to increase SEO.
Better and easier CSS modification.
Powerful SEO plugins.
Themes
TP allows you to choose from hundreds of pre-made themes or you can create your own design using the Nimble Design Lab
WordPress lets you choose from thousands of themes. With WordPress themes, you are getting more power, more speed, more customization, and a larger selection. These are a different class of themes. If you want the theme that most famous bloggers like Brian Clark and Matt Cutts use for SEO then I highly recommend that you check out (Genesis) which is great for beginners.
Ease of use
Like I said above the goal of Typepad is to be an easy way to start blogging for beginners. You can't take away the ease factor from them, but WordPress is just as easy if not easier because you are backed up by a gang of plugins. When you sign up with SiteGround it will literally take you less than 5 minutes to be on the web, it is that simple. Not only that, but WP lets you go deeper into customization.
Help
Obviously when it comes to getting more help and support the bigger option is going to be better and that of course is WP. The Typepad community is dying. It is safe to say that it is dead. Most people have already switched over to WP. WordPress is the largest blogging platform in the world. There is nowhere that you can't go to find help. Even your hosting provider offers phone support and live chat support. Why would anyone limit themselves to just the TP help center?
Popularity
Even though Typepad is older than WordPress it is not more popular. Many people who switched along time ago from TP to WP didn't even know that TP was still running. Over a quarter of the web is WordPress. Upon checking keyword searches I found out that "Typepad" has only 12,100 monthly searches. "WordPress" has 2,740,000 monthly searches.
Facebook likes(TP) – 13,581
Facebook likes(WP) – 965,880
Don't procrastinate! Let's create a blog now!
Overall WP is clearly the best choice. I've been using WordPress for years and I am more than satisfied. WordPress gives you the best chance to grow, make a living, and rank #1 for keywords.
Start now and you will be on the web in 5 minutes or less because the SiteGround setup is easy.
Here is a quick tutorial. Click here to start SiteGround at 60% off.
Choose the startup plan
Create a domain which is free with SG
Add your details such as your name like you would with anything.
When you're done a preinstall wizard will come up. Allow them to automatically install WordPress for you.
You're done! They did the work for you. All you have to do is create a password and username and log in.
Quote – "Twenty years from now you will be more disappointed by the things that you didn't do than by the ones you did do. So throw off the bowlines. Sail away from the safe harbor. Catch the trade winds in your sails. Explore. Dream. Discover." Mark Twain