When we talk about the best WP managed hosting providers, the SiteGround Vs WP Engine comparison will always come up. WPE is all about WordPress management as you can tell by their name. SG is friendly with everything. Let's get started so you can find the best one for you today.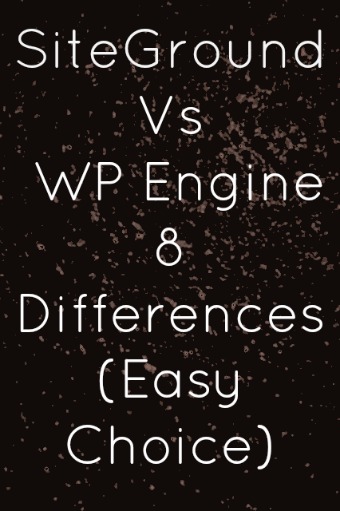 Let's take a quick look at them both.
WP Engine is a fully managed platform for optimizing WordPress, which was founded in 2010 by Jason Cohen.
They will make your website run to 1 – 4 times faster. What you get when you choose WPE is security (blocking hacks), support (24/7 support) and ability to scale. A plan gives you automatic daily backups of the site and staging for development work.
SiteGround is a popular web hosting company which was founded in 2004 and it is servicing more than 250,000 domains world-wide. It provides shared hosting, cloud hosting, and dedicated servers
Speed and uptime review
When it comes to speed WPE is faster, but SG handles its own in this category. It's fast as well. There are a lot of things that come into play when it comes to speed such as themes, plugins, etc. Once again from my thorough investigation, they both are fast, but WPE is a little faster. They both guarantee a 99.9% uptime.
Let's check the price comparison.
SG
On shared hosting the billing is yearly that way you set the special price for the whole period and you waive the setup fee, which is included in the 1 month sign up price. All you have to pay is $3.95 a month for the startup plan. Remember that you are paying for 1 year in advance so it's going to come up to $47, which is an incredible deal for this type of service. The first 30 days are considered trial periods because you can get a full refund if you don't want it.
Check out SiteGround and get 60% off today.
WPE
Many people ask is WP Engine worth it because it is indeed expensive. For me it's not worth paying 30 dollars a month, but for some people it is. In two months with SG you are going to be saving money. Now I am not saying that WPE is bad because they are great and they do have many notable clients, but for beginners and most people, you won't need this. But if you want it I will make it cheaper for you, Get 2 months free hosting with WP Engine on any shared annual plan, with this link
Storage comparison
They both have the same storage space as you can see in the images. SG just has it for a cheaper price.
There are going to be some restrictions with WPE
One of the things I don't like about WP Engine is that they don't host emails which all brands need and they have plugin restrictions such as Broken Link Check, SEO Auto Links & Related Posts, Yet Another Related Posts Plugin, WP DB Backup, WP Super Cache, WP File Cache, WP Rocket, W3 Total Cache, WP Mailing List, and TimThumb, EWWW Image Optimizer plugin, and more. Many of these plugins I use so I would not be a good candidate for WPE. With SG you will not have these restrictions. You have the complete freedom to build and manage your website.
Support comparison
We can't really get into the conversation about who has the best support because they both have great support. They both have what you would expect from a hosting company such as live chat, phone support, ticketing systems, tutorials, set up guides, etc. SG goes a step further because it also offers Joomla tutorials, Magento tutorials, Drupal tutorials, and more because remember it is not only for WP.
Control Panel
WPE is all about hosting. They do not have the standard CPanel, they have their own version called the User Portal. SG has more CPanel functions and features.
SiteGround Features
Free Domain Name
Free Site Setup or Transfer
Free Email Accounts
Unlimited MySQL DB
Unlimited Sub and Parked Domains
cPanel & SoftaculousWordPress Free Install
WordPress Free Transfer
WordPress Autoupdate
WordPress Advanced Security
WordPress Related Support
WP-CLI Pre-installed
Servers on Three Continents
Customized Server Setup
Free CDN with Each Account
SuperCacher
Free Shopping Cart Install
Multiple PHP Versions (7.0, 5.6, 5.5 and 7 more)
Perl and Python Supported
Free SSH Access
MySQL & PostgreSQL Databases
FTP Accounts
Power Redundancy
Hardware Redundancy
Unique Account Isolation
The Fastest Server Monitoring
Anti-Hack Systems & Help
SPAM Experts Spam Prevention
WP Engine features
Staging – Great for testing out new themes and plugins without affecting your existing site.
Transferable Installs
LargeFS
CDN – With the personal plan it is $19.99/MO, but with the professional plan it is included.
WPE SSL
Support 3rd Party SSL
Dedicated IP Address
24/7 Phone Support
Multisite Ready
GeoIP Enabled
Strategic Account Management
Launch Readiness Assessment
Testimonials
SG – I've used many hosting providers in the past, but SiteGround really stands out. They offer great features, but the best part is the customer service. I'm fairly technical so when I contact support, it's typically a pretty tough question. I've yet to stump them. Wes Kania
WPE – Things have been unbelievably fast and stable since we switched to WP Engine. Everything has been great. Keep up the awesome work!" Jason Barnes
Make your blog today: I strongly believe what it comes down to is the price.
I personally would go with SG. If you are new to blogging and you're seeking to make money SG is great and they're one of the cheapest so they will allow you to do that. Your site can be up in less than 15 minutes. It's an extremely quick process. Start today and get a free domain. Sign up here today and get 60% off of SiteGround.
If you are a new blogger I recommend that you do not use WP Engine unless you want to. WPE is for people who are already generating income from their blogs or website owners who want to handle large traffic. Get two months free on the shared annual plan here.
Quote "If you love writing or making music or blogging or any sort of performing art, then do it. Do it with everything you've got. Just don't plan on using it as a shortcut to making a living." Seth Godin