What is the best platform for your eCommerce site between Shopify vs WordPress and WooCommerce? I will help you make the right choice so you can start your online store today.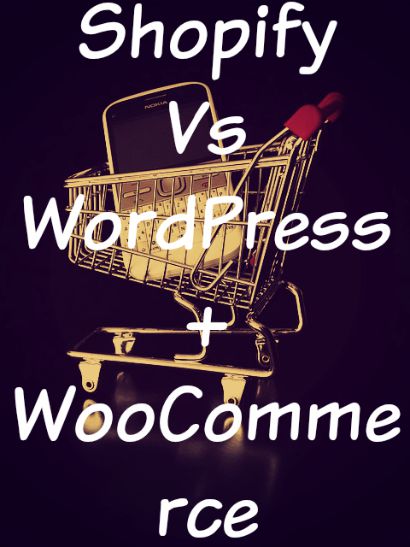 Shopify Vs WordPress + WooCommerce
Let's get right to it. Let the comparison begin.
Price
I started off with the cost first because most of the time this is the main factor for people seeking to run an online store. We are trying to get great performance while still being able to save money. When it comes to the price WordPress is the clear winner.
Shopify cost
Shopify has four different plans and you have to pay monthly. You always have to remember credit card rates. The bigger the plan the cheaper the cc rates (rates start at 2.9% + 30¢). If you want retail package you have to pay an extra $40 a month with your plan.
Lite ($9) – Lite gives you a small start without an actual store. It lets you
set up free sales channels like a Facebook store. For most people, this is already out of the picture because it doesn't give you what you desire.
Basic ($29) – Basic actually gives you an online store and all the basic features.
Pro ($79) Pro gives you the basic features, gift cards, professional reports.
Unlimited ($179) Unlimited gives you all the features like real-time carrier shipping, advanced report builder, etc.
Remember that everything adds up. The yearly price for basic is $348. For the pro it is going to be $948 and for unlimited you are looking at $2148 dollars a year.
WordPress cost
The beauty of WP is that it's free. It's free to use, customize, and enhance. This is why I chose WordPress because it does all I want and it's free. All you have to pay to start a site is hosting. When it comes to hosting you have to go with Bluehost.
It's the most reliable and it is cheap. With BH you pay a little under 4 dollars a month. You have to pay upfront, but that doesn't matter because you are going to use it and pay it anyway. All you have to do to create an online store is to add the WooCommerce plugin, which is free.
Domain name
When you choose Shopify you have to have the automatic .myshopify.com URL, which looks really ugly and is not professional. But you have the option of purchasing a more custom one if you wish. When you choose Bluehost for your hosting you will be given a free professional domain name for your WP site.
Themes
Shopify has 21 free themes and there are premium themes ranging from $100 to $180.
WordPress offers you thousands of free themes. With WP you can use an SEO optimized theme like Genesis and add the WooCommerce plugin, which gives you the best of both worlds. You have a blog, which is great for getting new customers. You have an eCommerce store and you have the best SEO friendly theme.
Genesis costs only $99 dollars which includes both the theme and their framework. Check out their Fun theme, which could be exactly what you are looking for. If you plan on having multiple blogs and eCommerce stores, which is what I recommend for maximum profit then get their Pro-Plus All-Theme Package. When you get this package you are saving close to a thousand dollars. For $499 you are getting 38 premiere themes plus any theme they make in the future. Genesis Connect for WooCommerce plugin allows you to seamlessly integrate WooCommerce with the Genesis Framework and Genesis child themes.
Plugins
Shopify – Shopify has hundreds of free and premium plugins which you have to pay for monthly. Among the most popular are the Better Coupon Box, Social Media Stream, and Persistent cart.
WordPress – WP has thousands of free plugins alone. The same plugins you are getting at Shopify for $19.99 a month are free with WP. WP has free PayPal, receipt, currency, live custom search, and customization plugins. If you want even more plugins you can go to Code Canyon and buy them for a one-time fee. WP has over 30,000 free plugins and more that are being made every day. If you want to have more features now and in the future, then WP is the best option for your online business.
SSL certificate
The good thing about Shopify is that you will receive a free SSL certificate. It doesn't matter if you're using Paypal it's always wise to have an SSL certificate. SSL certificates are cheap. I've seen some for as low as 4 – 20 dollars a year.
Support
This could go both ways because WP has a larger community. Almost everybody has WP so you will always receive help and get answers to your questions. But one of the things I like about Shopify is that they have live chat, which is really helpful.
Control
WordPress gives you full control. With WP you actually own the site so you get full control of your site. You handle everything. With Shopify always remember that you are hosting your site on their server. You don't own the site so guess what happens when you don't make your payments. You're gone. For me, it's always wise to host your site on your own server.
Setup time
Shopify – When it comes to set up time Shopify wins in this category. With Shopify, you don't have to add WooCommerce. All you have to do is go to your dashboard and start going down the steps.
WP – When it comes to set up time with WordPress it's easy and fast, but you have to activate and set up WooCommerce.
Although with both you should be able to finish setting up in under an hour, with Shopify you will be able to do everything quicker.
Blogging
Why should I care about blogging you ask? The reason you should care is that blogging and sharing will get your online business out there. Blogging around your products lead to more visitors coming to your site from various search engines. More visitors will result in more shares and more sales. When it comes to blogging WordPress takes the crown because it is built for blogging.
SEO rankings
Both get a point in this category. Shopify has dedicated servers for their users, but with WordPress you are able to get thousands of SEO plugins like Yoast to help you rank better.
Conclusion: My take
For a small business, Shopify can really kill you because of their prices. Although I do like their Sell on Facebook feature, with WooCommerce you can do the same thing for free (WooCommerce shop to Facebook plugin.) Basically everything you can do on Shopify you can do with WP and then some. WP themes look better and there are more to choose from. With WP you are giving your pockets some relief. Hands down in this showdown WordPress wins and I strongly believe that WP will be a better choice for your eCommerce store
Start today
(Receive a discount here and check out Bluehost) which will walk you through setting up your site in less than 5 minutes. Once you set up then add the WooCommerce plugin. Shop for themes at Genesis.
(Click here for a 14-day trial No CC required.)