I will compare Ruby On Rails Vs WordPress to help you build your website. Both platforms can be used to create small and large websites, but I strongly recommend that you choose WP and at the end of this article I will show you how to start so your business can be on the web today.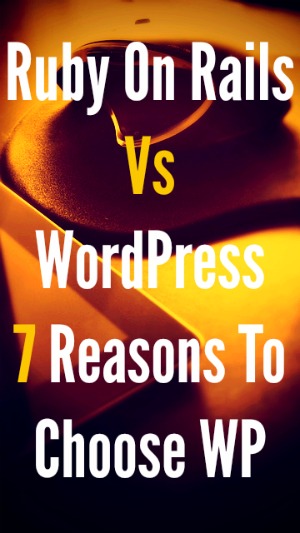 What are they
ROR is a web application framework written in Ruby. It is an MVC framework, providing default structures for a database, a web service, and web pages.
WordPress is a web software written in PHP that you can use to create beautiful websites.
Price comparison
When it comes to the price we can all agree that WP is way cheaper. Rails is going to be very expensive especially if you're not a developer. Ruby On Rails developers will charge you thousands for simple jobs.
With WordPress all you have to really worry about is your hosting cost because it is so easy you can do everything yourself. I strongly recommend SiteGround. It is only going to cost you $3.95 a month.
Rails hosting is going to cost you way more and you have to take into consideration maintenance, e-commerce app development, widgets, etc. If you are on a budget and you want the better price, then I would go with WordPress.
Ease of use comparison
ROR
Plain and simple Ruby On Rails is hard to use. It is not recommended for beginners. Even if you tried to learn more about programming you would not use Rails because there is a lot of things that you are expected to know with Rails. Rails is only recommended for advanced coders.
WP
Anyone can use WordPress that is why WordPress is the most popular website creation tool in the world. You don't have to know any code to start. WP is more beginner-friendly. It took me a few minutes to understand WordPress and get used to where everything was in my dashboard.
There is nothing that I can't do with WordPress and I don't have to hire a developer. If I want a new feature I install a plugin and that is it. The good thing about WP is that you don't have to be a programmer, but if you do have programming knowledge you can put it to use. WordPress allows the techie to still be a techie.
Which one will allow me to create a site faster?
ROR
If you are not a programmer, then you have two options. You can either hire a developer and let him build a site for you, but it is going to cost time and money. The next option that you have is that you can learn rails, which is going to take you a minimum of 6 months. It can take you even longer or slightly shorter depending on how much you know. You have to be very dedicated to learn Ruby on Rails. You have to study for 20+ hours a week.
WP
One of the benefits of using WP is that you don't have to build a site from scratch. You are able to create a powerful search engine friendly website in 5 minutes with SiteGround. Would you rather create a site in a few months or would you rather create a site today?
The reason it only takes 5 minutes is that with SiteGround you are given a free domain name and they have a WP installation feature. That means you don't have to go through the trouble of using a domain registrar. All you have to do is sign up with SG, let their WP installation feature do everything for you, and log into your dashboard.
As you can see it is a very simple and fast process. In a few minutes from now, your business can be on the web and instead of worrying about the other things you can start adding content.
Plugins comparison
With Rails you have to know how to build a plugin from scratch or you have to pay thousands to a developer for a plugin. Why pay for a simple plugin when you can get it for free? For example, with Rails for an eCommerce feature you are looking at 5000+. If you choose WordPress you can install Woocommerce which powers more eCommerce shops than any other platform and it is free. It takes only one click to install these plugins.
Would you want to have to keep on calling a developer every time you need a new feature or would you rather have it already available to you? There are more than 31,000 WordPress plugins and more are being created every day.
WP is better for your businesses growth. When you need something new it is there for you. You need special security then install it. You need shopping carts, then install it. You want to make a new social media site there are plugins for that. You want a forum there is a plugin for that.
Any complex plugin that you need is there for you. All you have to do is search for it in the plugins sections and install it. WP actually allows you to have fun and see what works for your site.
I've had sites with over 20 plugins installed that ran perfectly. The ability to choose any plugin is something that you don't want to give up, I guarantee you that.
Which one creates a more complex and better-looking site?
Please understand what I am saying. Rails can be used to create beautiful looking sites and there is no denying that. The problem is that it takes years of knowledge to create a complex site. Many people can create a site using Rails, but it still will not look as good as a WP site.
I've seen many sites that were built on Rails that were nowhere near the beauty of WordPress sites. There are some WordPress sites that were created by people who have never created a website before and that know nothing about coding, but their site looks like it costs 10K+. In all actuality, all they did was pay for an $80 theme and that was it.
Both platforms can be used to create complex and good looking sites, but with WP all you need to do is install a theme and you can get the results that you want.
SEO comparison
WP
With WordPress, you are guaranteed great SEO. Most of the top websites on Google, Bing, and other search engines are WP sites. That is really saying something. You have everything available to you such as Breadcrumbs, clean URLs, title and description meta tags, Robots.txt, XML Sitemaps, and more.
What makes WP more impressive is that you are able to install cache plugins and SEO plugins for better speed and better rankings. A good majority of the internet is using Yoast SEO to enhance their site. Not only are you given plugins, but you are also able to install frameworks like Genesis, which is the most popular SEO theme.
ROR
With Rails SEO will not be made easy for you. To achieve awesome SEO results you have to use your brain or rely upon the brains of others.
Documentation and Support comparison
Rails does not have the best documentation and as I said in the beginning before using Rails there are a few things that you need to know. WordPress has better and clearer documentation. Another upside of using WP is that it has a larger community which means more support, more developers, more video tutorials, more forums, more blog posts, thousands of themes, cheaper prices, etc.
In conclusion: Why should you choose WP today?
WordPress provides the greatest flexibility for most small & large business website owners. Think about maintenance, think about support, think about plugins. WordPress is going to be better for you in all of these areas.
Is Rails any good? Yes of course, but Rails is not for beginners and WordPress can do anything that you want it to do in a short amount of time.
25.3% of the internet is using WordPress. Small brands and big brands such as Sony, Van Heusen, The Rolling Stones, ESPN, ITW, IBM, eBay, Forbes, FaceBook, Ford, Time, People, NASA, Justin Timberlake, and more are using WP. Less than 2% of sites on the internet are built on Rails.
Start your WP site now.
Try it for yourself all that you need is hosting. Sooner is always better than later because you want your site to be established on Google. It will take 5 minutes with SG. You are given a 30-day full refund guarantee. You have nothing to lose. Give it a shot and see how easy it is.
(Start SiteGround here at 60% off) 24/7 live chat is available
I strongly recommend the (Genesis theme) for better SEO.
Quote – Keep on going and the chances are you will stumble on something, perhaps when you are least expecting it. I have never heard of anyone stumbling on something sitting down. Charles F. Kettering