Which is better out of NationBuilder Vs WordPress? The answer is clear. In this review, I will be comparing difficulty, add-ons, performance, and more. After you read this review, you will see why you should use WP to start your site today.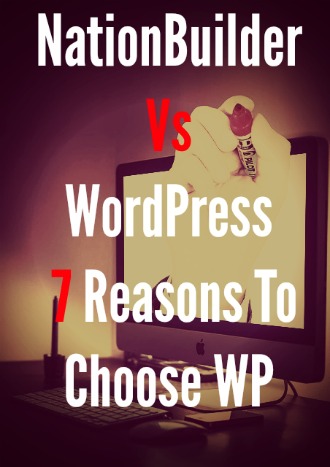 Introduction
NationBuilder is a community organizing platform. It allows users to build and manage websites and offers tools to communicate with supporters.
WordPress is the fastest growing CMS software. Anyone can use WP to build and maintain a website or blog.
Ease of use comparison
NB
NationBuilder can be a little scary at first because of the different options that you have, but when you get used to it you will find that it is not really difficult, but it does have a steep learning curve. NationBuilder is limited in some areas because it is really only built for one type of site and that is a political campaign website. NB does not have a shopping cart. The donation feature has to be used on a different domain. Adding files and images is a separate process.
WP
WordPress is the easier option and that is why most site owners are using WP. There is no learning curve and no coding is needed. WP is ideal for any type of website. It takes me 5 minutes to create a site with SiteGround. The thing that makes WordPress easier is that you have many plugins that you can install in just one click.
Price comparison between NB and WP
I understand that NationBuilder is a political website builder, but it is very expensive. It could end up costing you over a thousand dollars in a short amount of time. What you are looking at is their monthly pricing plans, which I do not recommend. It will be cheaper if you pay yearly which brings the $29.99 a month plan down to $19.99 a month, which is 35% off. This is not including the price for themes, plugins, and extra features which I will talk more about below.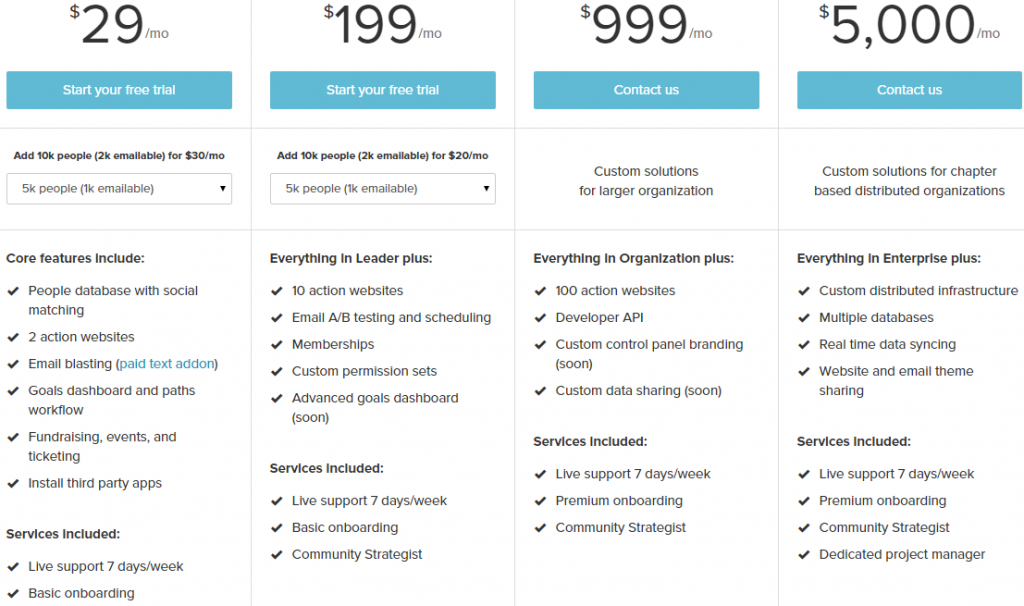 WordPress has no cost.
WP immediately wins in the price comparison because it has no cost. The only thing that you have to pay for is hosting. I strongly recommend that you use SiteGround. SiteGround only costs $3.95 a month. When we start a website we plan to have it for years so let's compare the cost for each CMS in 3 years. SG is going to cost you $142 and NB is going to cost you $720+.
Themes comparison
NB
NationBuilder has only 8 public themes to choose from. Verve, Headliner, Publish, CityZen, Victory Again, Collective, Presence, and Aware. With the limited amount of themes there is a good chance that you are not going to find the theme that you want. You have to either create your own theme, but if you're not a developer then this alternative is out of the question or you can hire a developer. If you check on their hire a developer page you will see that it is going to cost you thousands. You are most likely going to be paying 4000 or more for these developers. In the themes category, NB falls extremely short.
WP
WP has the larger user-base so it's not a shock that it has way more themes. WP has over 2.1K free themes available to choose from as soon as you log into your dashboard. In total, there are over 10K themes. I strongly recommend that you choose the Genesis theme because it is the most popular and the best SEO optimized theme for beginners. If you need a campaign type SEO theme I strongly recommend that you use the Education Pro theme.
Plugins comparison.
There is no platform that can compete with WordPress. What many platforms like NationBuilder try to do is specialize in one area, but WordPress is still the better option because it can do everything that NationBuilder can do and then some.
NB
NB does not really specialize in plugins. They have built-in features for campaign type websites such as fundraising features, event features, and ticketing features. NB does have an app directory, but it's only limited to campaign related apps and most of these apps are going to cost you $30 a month and up.
WP
With over 31K WP plugins you will not run out of options for your website. By just typing in fundraiser in the plugins search box you will see that WP has more fundraiser, ecommerce, and donation plugins.
Not only does WordPress have more fundraiser plugins, but if you type in something like events you will see that WP offers more event ticketing and event registration plugins. The good thing about these plugins are that they are free.
WordPress gives you the ability to have a membership section. It gives you the ability to allow your users to sign up with their social media accounts. It allows you to add forums, progress bars, polls, live chat, video chat, latest news, petitions, subscriber forms, and more for free. There is nothing that you can't do. This is why WP is the clear winner in this category.
SEO performance comparison
NB
NationBuilder has basic SEO. It doesn't really have any real SEO features, but like other platforms they teach you how to achieve better SEO results.
WP
We get it you have a website. If your site can't be found in the search engines then that is a problem. WordPress is structured for better SEO. Not only does it have all the internal features to help your search engine rankings, but SEO plugins like Yoast and speed plugins like WP-Cache take your site to another level.
Statistics show that well over 17% of the top websites are WordPress sites. That is way more than any other platform. WP gives you SEO functionality. It Gives you the SEO, speed, and image SEO plugins, and it also gives you the ability to install SEO powerful themes like Genesis.
Data comparison
NationBuilder holds all of your data. Your site is being hosted on their servers which can be problematic in the future. I always recommend that people should get their own hosting. If you choose SiteGround you have your own servers and you have more options.
Popularity comparison
W3techs.com reports that NationBuilder is used by less than 0.1% of all the websites. WP is used by 25.3%.
"NationBuilder" monthly Google searches: 8100
"WordPress" monthly Google searches: 2,740,000
NationBuilder Twitter  followers 16K
WP Twitter followers 514K
In conclusion
WordPress is definitely more user-friendly, it is faster to create a site, you have your own server, you have more features and plugins, WP is cheaper, you have more themes, WP has a larger community, more support options, and WP is more popular. This comparison was never even close. WP is the clear best choice.
Create your WP site today to start ranking online sooner. It takes only 5 minutes.
SG literally does everything for you.
1. Start SiteGround at 60% off.
2. Click on WordPress services
3. Click on get premium WordPress hosting
4. Choose the startup plan
5. Create a free domain
6. Fill out your info.
7. The rest is history. With their WP quick install feature, they will install WordPress for you.
8. Your website is created.
When you're in your WP dashboard you will have many templates available to you, but I recommend that you purchase Genesis.
Quote – "You may not be a Picasso or Mozart but you don't have to be. Just create to create. Create to remind yourself you're still alive. Make stuff to inspire others to make something too. Create to learn a bit more about yourself." -Frederic Terral