DigitalOcean is second largest hosting provider in world, their hosting are affordable. They provide SSD Cloud hosting and give you full control over it, like other mainstream hosting provider for WordPress they don't provide cPanel so it make it quite difficult for non technical users to install WordPress on it. In this tutorial I will teach you how you can create scalable WordPress website using digital ocean in minutes.
Things you'll need:
DigitalOcean Account with at least $5 credit.
ServerPilot Free Account.
PuTTY (Not Necessary)
Step 1– Create DigitalOcean Account (skip if you already have one)
Go to this link and register for an account. This link will give you extra $10 credit.
Confirm your email.
Update your Billing information.
Step 2– Create a Droplet
Login to your DigitalOcean account and click on Create Droplet button on top right corner.
Choose an image
Select Ubuntu in Distributions.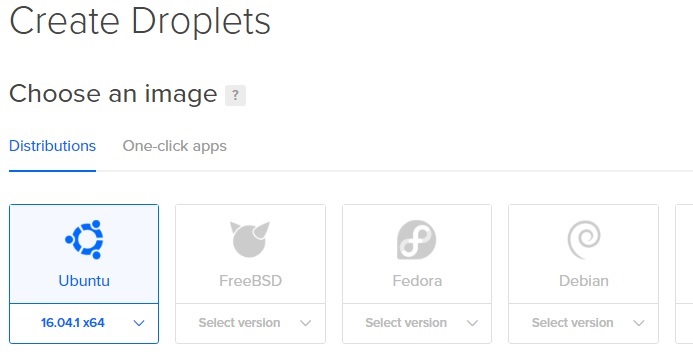 Choose a size
Select whatever size suits you, even $5 droplet scales pretty well for WordPress blog with around 100k page views per month.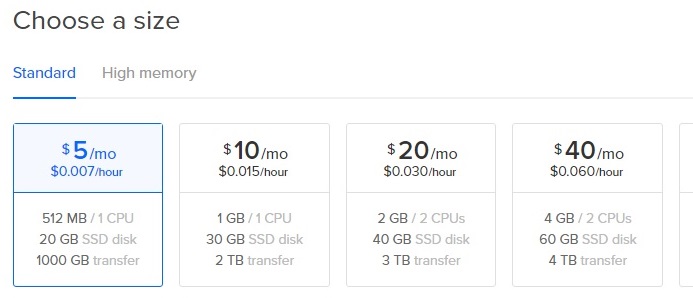 Choose a datacenter region
Select whatever region you get most traffic from. You should choose a server region closer to your target audience.

Choose a hostname
Select a droplet name that is easily identifiable. I use a droplet name that is similar to the domain name. You can follow the same policy.
Finally Click on Create Button.
Step 3– Login to newly created DigitalOcean Droplet
Right after creating a new droplet on DigitalOcean, check for mail by DigitalOcean where they have provided you with following three things:
IP of droplet
Username (which is root most of the time)
Password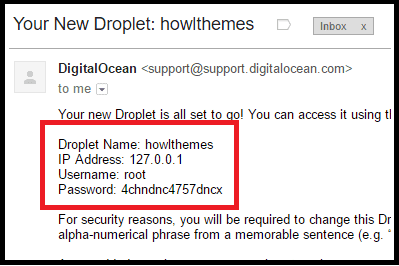 Access Console
In your DigitalOcean account, click on newly created droplet and access console.

If you see a black screen just click on it and press any key to activate the console window.
If it asks for login then type root and hit enter.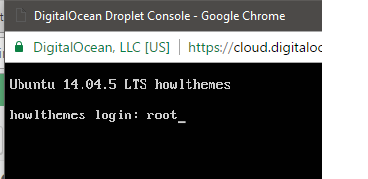 Now it will ask for password, enter the password you received in email by DigitalOcean after creating droplet.
Since you're login for first time, you'll be asked to change your password.
Remember when you type password it will not show anything on terminal for security reason so just don't panic.
After you changing password you'll be successfully logged in to your Droplet. Now you can close the console and follow next step.
Alternative way to log in to your droplet using PuTTY
Step 4– Add domain to DigitalOcean
DigitalOcean Nameserver instructions here
Step 5– Create ServerPilot Account
Go to serverpilot.io and register for a free or premium account.
Step 6– Connect ServerPilot & DigitalOcean
Login to your serverpilot account and click on "Connect a Server" button.
Now enter your droplet IP address which you recieved in email from DigitalOcean.
In Root Password field enter the password which you've set in step 3.
In SFTP Password field enter the *new* password.
Finally click on Connect button and wait.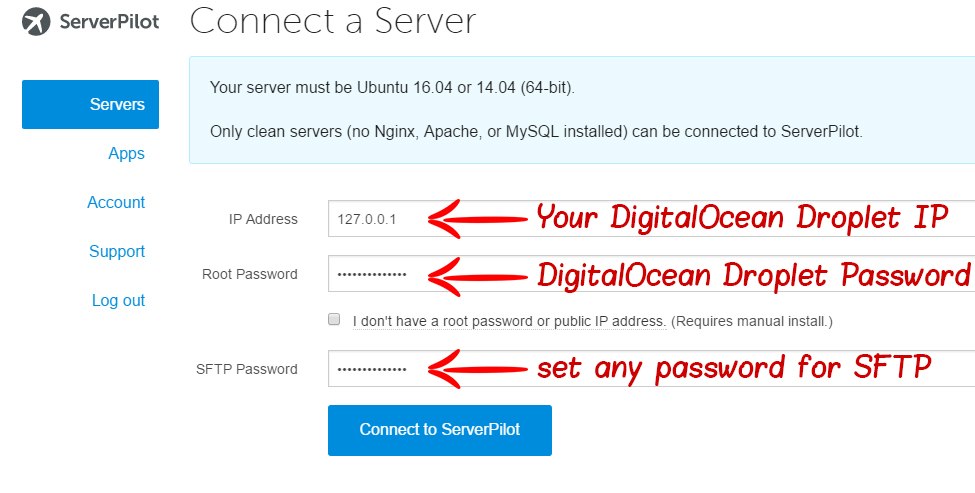 Step 7– Installing WordPress
After connecting your DigitalOcean droplet with ServerPilot we're going to install WordPress on DigitalOcean Droplet through ServerPilot.
Click on +Create App button.
Enter name, domain and tick WordPress.
After ticking WordPress, enter Title, Username, Password and Email for your WordPress blog.
Click on Create App and wait for serverpilot to install WordPress for you.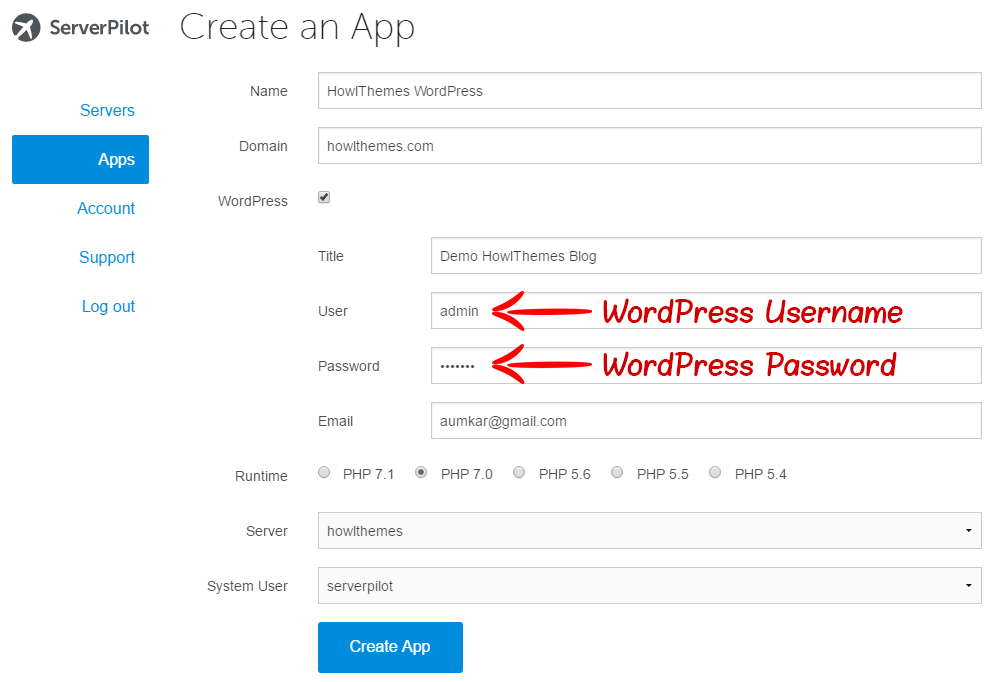 Final Step– Login to your WordPress site
Congratulations! You've installed WordPress on your DigitalOcean Droplet.
If you've followed step 4 and added domain to your DigitalOcean Droplet then enter that domain name to access your WordPress site.
If you didn't added domain to your DigitalOcean Droplet then simply enter the IP of your droplet to access your WordPress site.
Login to your WordPress using wp-admin: yourdomain.com/wp-admin
Feel free to ask any questions by commenting below.