Earlier, Mirroring Android Screen to PC was a pain. But now things have changed a lot and lots of new apps and software are available to cast an android screen to PC. This feature comes really useful when you want to view contents on your phone on a bigger display like the monitor or laptop display. You can play a slideshow and view it on your TV or the monitor making it a whole lot easier if there are more people already.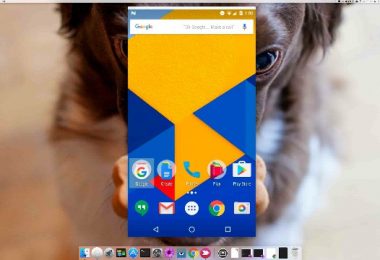 Have you ever thought of playing Android games on your computer while using your Android smartphone as your controller or joystick? Well, it is possible with the help of Screen Mirroring software. You can normally open the game and start playing it and the contents can be viewed on a bigger screen like our Computer monitor.
How to Mirror Android to PC?
There are multiple ways in which you can cast Android to PC and I will discuss three different methods and let's see how.
Before going in…
There are two necessary settings that you need to enable before we proceed with mirroring. First, you need to enable Developer options and following which you will be able to enable USB Debugging, which is necessary if you are looking forward to mirroring android screen to pc via USB cable.
Head over to Settings > About section and tap on the Build number 5 times. Now, the developer options will be enabled.
Go back to settings and you will find a new option called Developer options. Tap on it and find USB Debugging and enable it. Once you are done with it, let's proceed further.
Method 1: Mirror Android with Vysor
Vysor is a popular Screen Mirroring software available for Windows. The reason I opt to include this software on top is how easy is it to set up and do the whole thing. Vysor will let you remotely control your device from your PC using your Mouse and Keyboard.
Vysor comes with both Free as well as Paid options. The free option will be more than enough for most people. If you want High Resolution mirroring and drag and drop facilities, then you might want to consider purchasing the pro version.
Download Vysor for your computer from their official website. Vysor is a cross-platform software available for Windows, Mac, Linux, and Chrome
Download and install Vysor for Android from the Google Play Store.
Connect your Android device to the PC with USB Cable
Now, a popup will appear and allow USB Debugging
Open Vysor on your PC and it will show that a new device has been detected.
Click on start casting and it will start mirroring the contents on your phone to your computer.
One thing I liked the most about Vysor is the fact that it is cross-platform supported. The FREE Version is available for Android, Windows, macOS, Linux, Chrome.
This is how we mirror Android screen to PC with the help of free software called Vysor. For some reason, if you are not able to use Vysor properly then you give a shot for the next method.
ApowerMirror – Cast Android to PC
ApowerMirror is another feature-rich software that allows us to cast Android to PC. Apart from mirroring Android to PC, this software has some cool features that are not available on other Softwares on the list. The first thing is that you can remotely control your PC with Apowermirror on your Android PC.
Again, Apowermirror also comes with a paid plan called Apowermirror VIP. Upon subscribing to this particular plan you will be able to mirror 3 devices at a time and draw on the screen. You can even customize the keyboard mapping by which you can control your Android device even more smoothly.
Firstly, Download and install the Apowermirror client on your PC. Go to their official website and download it for your PC. Once downloaded, install it.
Now, Download Apowermirror Android app from the Play Store and install it on your phone as well.
Make sure that the USB Debugging is already enabled in the developer options, which we turned ON earlier.
Connect your phone to PC with USB Cable and a popup should appear, tap on Allow.
You will find a START NOW button in the app and just tap on it and it will bridge the connection and this is how we mirror Android to PC with a USB Cable. Apowermirror even supports the option to mirror the android screen to PC wirelessly. For that, continue with the next step.
Mirror Android Screen to PC Wirelessly
Even if you are about to Mirror Screen to PC Wirelessly, you should use the USB cable at least once. Or else you won't be able to do anything on the screen that is mirrored, you can only view the contents. If you want to control it then make sure you use the USB method at least once.
Make sure your computer or PC have wifi enabled on your PC.
Open the App on your phone and tap on the M button and the bottom of the screen.
You will be able to find your Computer name on the list there.
Choose Phone Screen Mirroring
Tap on the START NOW button and you are all good to go.
It will instantly launch your Android Device's screen as a window and you can do whatever you want like capture screenshots, record screen videos/activities, start a slideshow, play games or anything and view it on your computer. With the pro version, you can even draw on the screen.
Final Words
Mirroring Android Screen to PC can come really helpful in many situations. If you want to display the photos on your phone to a computer so a group of people can view it at the same time this will come in handy. Or if you want to show your mobile screen on a projector screen then you can use your PC itself while your phone is in mirroring mode.