I strongly believe that Bigcommerce Vs WooCommerce is a no-brainer. If you want to start an online store use WooCommerce. It is an awesome plugin that turns your WP site into a full-featured online store.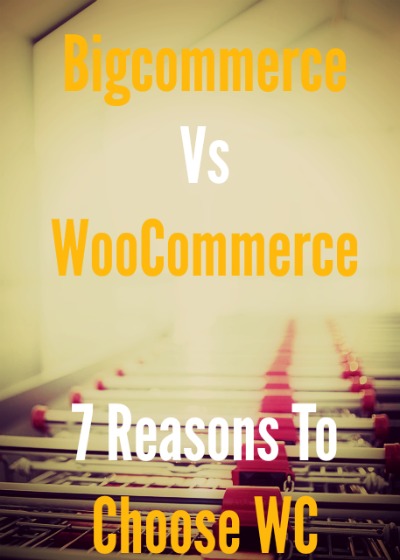 I am not saying that Bigcommerce is bad, but you can't beat the easy set up, the price, and the functionality of WC.
I've been building websites for years on WP and I have never had a problem.
This is similar to the comparison I made a while back between Shopify or WooCommerce in which I recommended WC.
1. WooCommerce fits the budget of most people.
BC
With Bigcommerce there are 3 plans to choose from. You will save 10% on any plan when you pay a full year in advance, which is what I recommend for serious business owners.
The Standard Plan will cost you $29.95/month which includes hundreds of built-in features such as 1.5% transaction fee, unlimited products, unlimited storage, unlimited bandwidth, powerful reporting tools, accept credit cards & PayPal.
The most popular plan for business owners is the Plus Plan which will cost you $79.95/month. With this or the Enterprise Plan, you don't have to pay for any transaction fees. You get all standard features such as real-time carrier shipping, omnichannel sales tools, advanced customer segmentation, abandoned cart saver.
The Enterprise Plan offers custom pricing to fit your business. This plan gives you all plus features such as setup & data migration, maximize SEO with site-wide https, dedicated SSL & IP address available, priority support, Google trusted stores, uptime SLA, product filtering (faceted search)
WC
Woocommerce doesn't cost you a penny. It's a free plugin that you install on your WordPress website. The only way that we can compare the price is if we compare the hosting costs. WordPress recommends Bluehost which will not even cost you four dollars a month.
Let's calculate the future cost because as a business owner you want to still be in business in the next 5 years. In 3 years if you go with the first two Bigcommerce plans you are looking at around $1080 or $2880. In three years with WooCommerce you are looking at $140.
That's either going to be a $940 or a $2740 difference. WC allows you to save and still have an effective business.
2. WooCommerce has a bigger selection of themes at better prices.
On the BC website, they have both free and paid themes. They have 16 decent looking free themes, but most likely you are going to buy a theme. The theme prices range from $120 to $250 and there are 41 paid themes. You also have the option of getting design and frontend coding service for around $1000
It's not a surprise that WP offers way more free themes than any other platform, but most likely you are going to buy a theme. WP has the biggest selection of premium themes in the world at all different types of prices.
That means that you will not have a hard time finding the perfect WooCommerce theme for your business. Some of the places that I recommend are Genesis, Elegant Themes, and Mojo-Themes.
At the end of the day, the awesome thing about WC is that you can use WooCommerce with any theme that you want.
3. WordPress and WooCoommerce is plugin Heaven.
The biggest reason that I recommend WC to everyone seeking to run an online store is that it offers you vast capabilities for free. There is not one site owner that doesn't add plugins or doesn't desire to. You are going to want to improve your business. You are going to want to implement more things to satisfy your desires. Do you really want to pay for every new plugin?
BC does have many free plugins/apps, but it is nowhere near the amount of WC nor are the plugins on the same level. If you choose to buy one of their paid plugins you have to pay monthly. Some plugins will cost you $15/month. Some will cost you $50/month. The prices for apps vary.
With Woocommerce all you have to do is click on plugins in the dashboard and search the plugin that you want. There is a plugin for everything.
There are over 30K free plugins. Everything is there for you. SEO, Live chat, security, shopping carts, Paypal, email tools, digital downloads, invoice and billing, games, tax, fast checkout, sign up forms, auctions, backup, automatic updates, coupons, social media stores, and the list goes on. Whatever plugin you think of putting on your site, just type it in search and it is yours.
I typed in e-commerce in the plugin search bar and 914 free items popped up. These plugins will save you time, save you money, and help you make money.
4. If you choose WC you will also get the best blogging platform.
If an ecommerce business does not blog they are foolish and they are hindering their website. If you have ever wondered how are you going to drive traffic to you store, blogging is the answer! If you have ever wondered how you will rank better, blogging is the answer! Bigcommerce customers have been asking for an actual blog to no avail.
You need a blog in a folder which looks like this, mysite.com/blog/. They give you a blog at a subdomain which looks like this, blog.mysite.com. This is not good for SEO. Google doesn't see the subdomain as the same thing. All the links that you get from working hard with blogging will not give your store link juice to help you rank higher.
5. If you have clients they are going to fall in love with WooCommerce.
Clients will gravitate towards WC more because of the simplicity, the price, and the wide variety of capabilities that it has to offer.
6. WooCommerce can hold a lot of products.
Many people who have never used WordPress think that WC can't hold a lot of products, which is false. Many of the biggest online stores are on WooCommerce. For example, hypebeast.com, Jhornig, The Spectator, Entrepreneur. There are WooCommerce sites that handle thousands of products perfectly fine. Scalability will not be an issue.
Bigcommerce can handle thousands of products as well with no problems. I just wanted to explain that WC can do the same. There is a reason why WC has great reviews. There is a reason why almost 30% of all online stores are powered by WooCommerce.
7. WooCommerce has a bigger community.
When you choose WooCommerce you are not only going to have the WC community to help you but the WP community as well. Since most people are using WP and WC that will result in more help and support for you.
I am not knocking Bigcommerce support in fact I love that they have live chat which WC doesn't. They both have docs, guides, ticket support, and forums, but WP gives you more help from different places. There are more developers, designers, tips, plugins, forums because the demand is greater. Did you know that they even have WooCommerce meetup groups? Here are Upcoming Meetups.
It would be extremely wise to choose WP. Start establishing your presence on Google today. It takes literally minutes to set up with BH. (Click here to get a discount and start building with Bluehost.)