If you want to start an online business I will explain why Big cartel Vs Shopify is no battle. Whether you want to start a clothing line or clothing store, digital, electronic, homemade products, etc. Shopify is always a better choice than BC and I will prove it.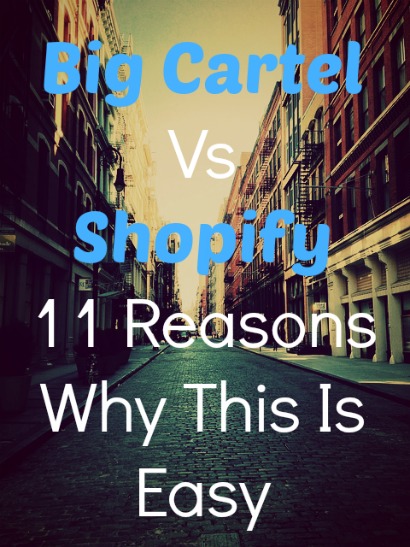 Differences in social media.
Big Cartel Facebook likes – 15,282
Big Cartel Twitter followers – 20.5K
Shopify likes 1,256,887 likes
Shopify followers  174K
 1. Shopify offers a 14 day free trial
This full-feature trial shows that Shopify is trusting in their company. They are saying that once you try us you are going to fall in love and stick with us. Shopify says don't worry about putting your CC info in, after you try the 14-day trial if you're satisfied then purchase it.
Big Cartel does not give you a free trial.
2. Shopify has way better built-in features.
Features are a strong influence on our eCommerce choice. The more the better.
BC features
Sell on Facebook
Seamless checkout
Five images per product
Inventory tracking
Sell your digital products
Awesome stats
Search engine optimized
Discount codes
Order management
Shopify features
Synced inventory
Tap to add products
Shopify allows you to sell products on Twitter, Facebook, and Pinterest for increased profits.
Use fraud analysis tools
No transaction fees.
Manual order creation
Full blogging platform – very important for increased profits.
Discount codes & gift cards
Receive shipping label discounts
70 payment gateways
Offer free shipping to customers
Your online store checkout comes in 50+ languages
Automatic taxes
You'll get $100 towards Google advertising if you spend $25 with Google.
SEO optimized (And Much More)
With Big Cartel you only get a sell on the Facebook feature, which is great for selling to friends, followers, fans, and regular users on Facebook. Shopify gives you everything. Would you rather sell on one social website or 3 of them? Pinterest has increased revenues by a large margin for many online stores. It's an easy way to get sales and exposure that you can't miss out on.
Sell to millions of Pinterest users with a buy it button, only available with Shopify. With the Twitter feature, any products that you tweet will include a buy button. What that means is people can buy in your shop without even leaving Twitter.
4. Shopify gives you a lot of apps/plugins
Plugins expand the functionality of your website. For example, a live chat plugin adds live chat to your site. You can add a whole bunch of cool features to your website for free. There are so many free and paid addons to play with. You can practically do anything on your site. With Big Cartel you do not have this.
5. You get a full blogging feature with Shopify?
You might be saying to yourself right now I don't care. I want to start a store to make money not a blog. My response is if you want to make more money you need to blog. Blogging will help your ranking, establish search engine trust, increase traffic and awareness of your products which turns into more sales. You're making it hard on yourself with Big Cartel because you can't blog within your website.
6. Big Cartel sites never make it big
I've done a thorough research and I could not find any large and notable websites using Big Cartel. Most of the sites I checked had the ugly .bigcartel.com URL. I checked the rankings and SEO for many of them and they were terrible. I have been making websites for years. That tells me that BC sites do not rank well, they get low sales, and most professional e-commerce sites are not using them.
If you check notable Shopify sites you will not have a problem finding any. Here are some successful businesses that are powered by them. Tattly.com, leifshop.com, grovemade.com, greats.com, calmtheham.com, and more.
7. You can hold unlimited amounts of products with Shopify.
This is where BC falls extremely short. Most people who want to start a business have hundreds and thousands of inventory or plan to have that in the future. With BC there are three plans.
The first one gives you ($10)25 products, the next one gives you ($20)100 products, the third plan gives you ($30)300 products. This is very unprofessional and it is defiantly not for people who want to expand and grow. Putting limitations on your site will limit your income.
8. Shopify gives you more for the price that you are paying.
S(Prices) – Basic($29) Pro ($79) Unlimited ($179) – All offer unlimited inventory
BC(Prices) – Platinum($10) Diamond($20) Titanium($30)
I will admit that the platinum plan might seem attractive, but you will only be able to hold 25 products. With the diamond plan only 100 products. That's not enough and you have to think about the future.
The free features and addons that Shopify offers will help you make more money than with Big Cartel. If you get the basic plan, that is only a $9 difference from the diamond plan. I guarantee that the features will pay for the difference and then some. You will get more bang for your buck
If I choose Shopify which plan should I go with?
The plan that most people go with is the $79 plan because of some extra features, but if you're trying to save money the $29 plan is awesome as well.
9. Shopify has better support
Wouldn't you want your business to have phone support and live chat support just in case you run into any trouble? If you are like me of course you would. Big Cartel does not have phone support so forget about calling them. They also don't have live chat, which is disappointing to most.
10. Shopify is easier.
I never said that BC is hard to use because it is not. BC is easy to use, but it is not easier than Shopify. I guarantee that you will find that the setup process is simple and the features make it, even more, easier for you. The interface is simple and everything is right at your fingertips. With Shopify, you will even have way more guides to help you than with BC.
11. Big Cartel doesn't offer a lot of free themes.
5 free themes are not enough. Shopify offers way more free themes, but then again most likely you are going to buy a theme anyway.
In conclusion
There is no competition. Shopify is obviously the best choice. Don't procrastinate! Try it for yourself. Start building your professional store today!
(Try a 14 day trial no credit card required here.)
A quote from a customer who switched from Big Cartel to Shopify.
Like night/day. The customer service from the previous cart was decent, however, we were consistently on the top stores and had a ton of requests that were not addressed for over 2 years. Shopify's customer service has been nothing short of incredible. Very responsive, a million ways to reach them. Excited to re-start our business through Shopify. Rob Starkman